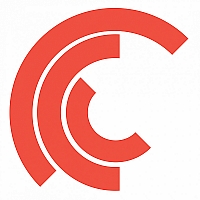 Concert.Expert
replaces a human booking agent.
О проекте
Concert.Expert replaces a human booking agent in the global live music industry. Billion dollar sector. Validated business model. Traction in the United States. 30 years of entrepreneurial experience, 4 exits experience, 5 engineers co-founders, top angel investors on Board and a subscription model.
Our team consists of 9 persons and our burnrate is $2.5K.
The live concert market in the United States over the past decade has grown 3 times.
Worldwide concert revenues have reached $25 bln.
There are only two players who always win in this market, getting a commission from each ticket sold:
Ticket agencies and Live music booking agencies.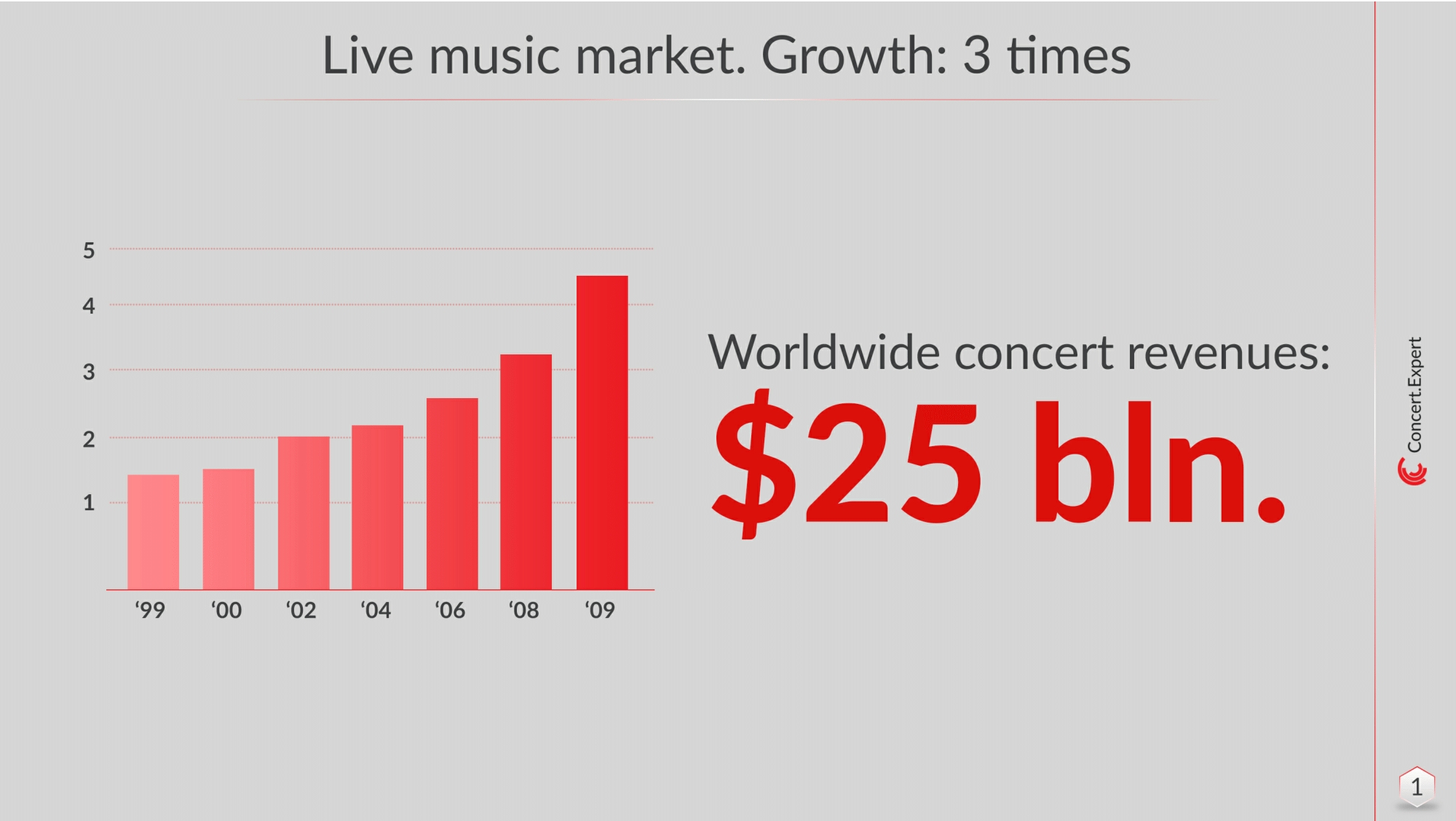 While the market of ticket agencies is overloaded with high tech competitors.
The Market of booking agencies, which is the same size, still uses phones and E-mails.
We are the first to bring IT to this billion dollar sector.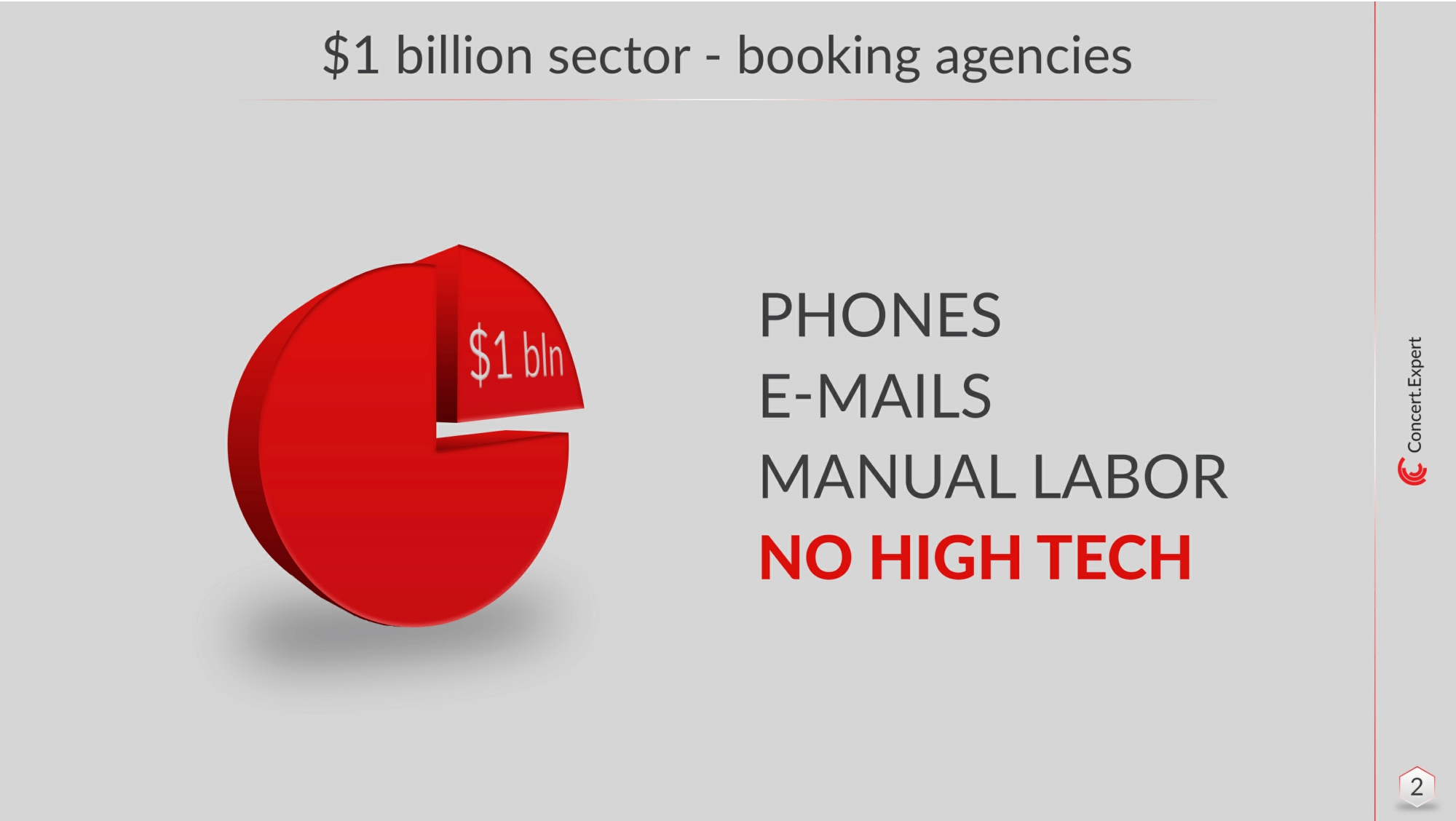 Concert.Expert - is a high tech booking agent in the global concert booking industry.
Concert.Expert replaces a human booking agent.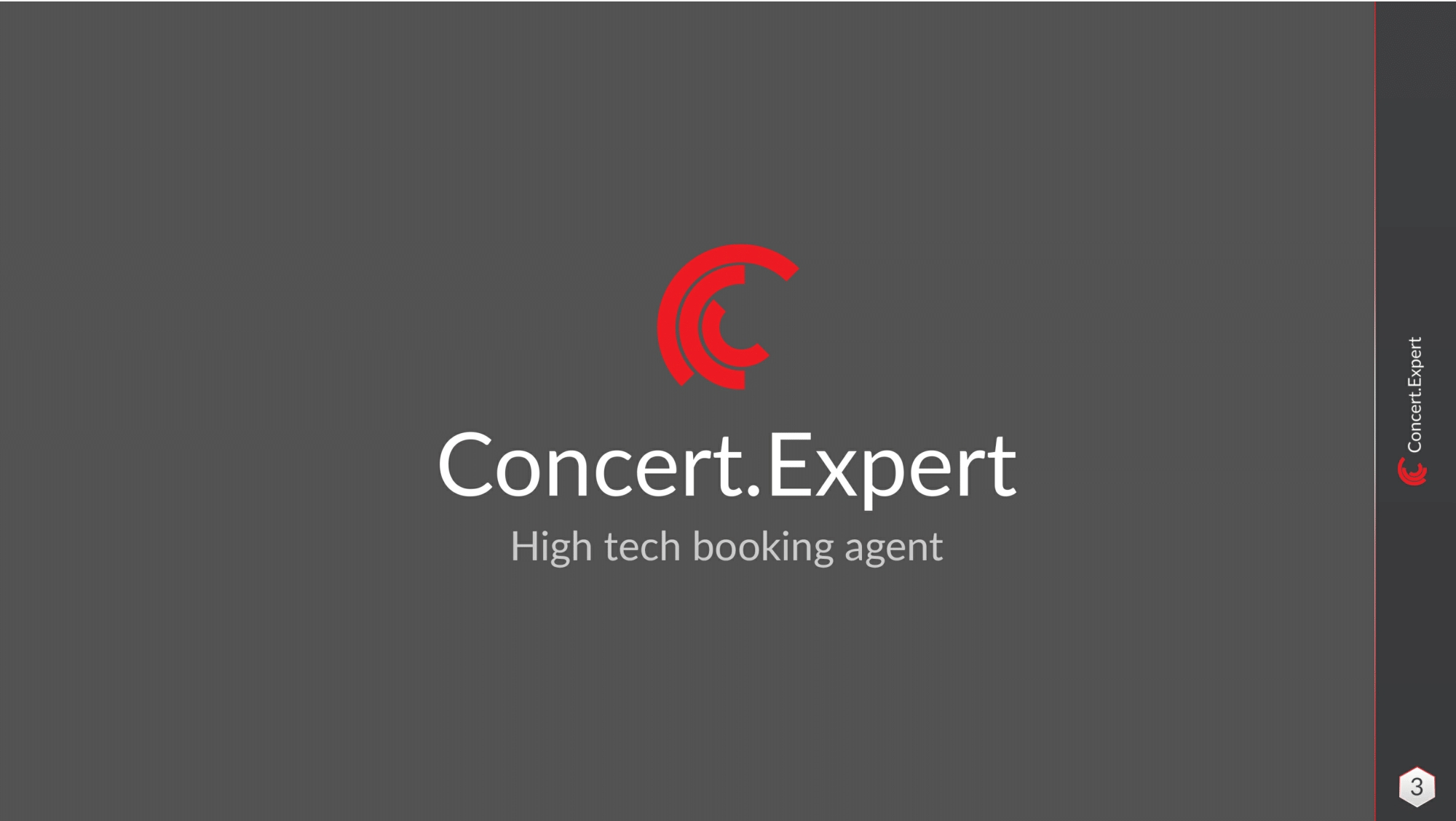 The average salary for entry-level booking agents is $26000.
Responsibilities of a booking agent are to search, call, schedule, communicate with music venues.
And to get as many performances for his musicians as possible.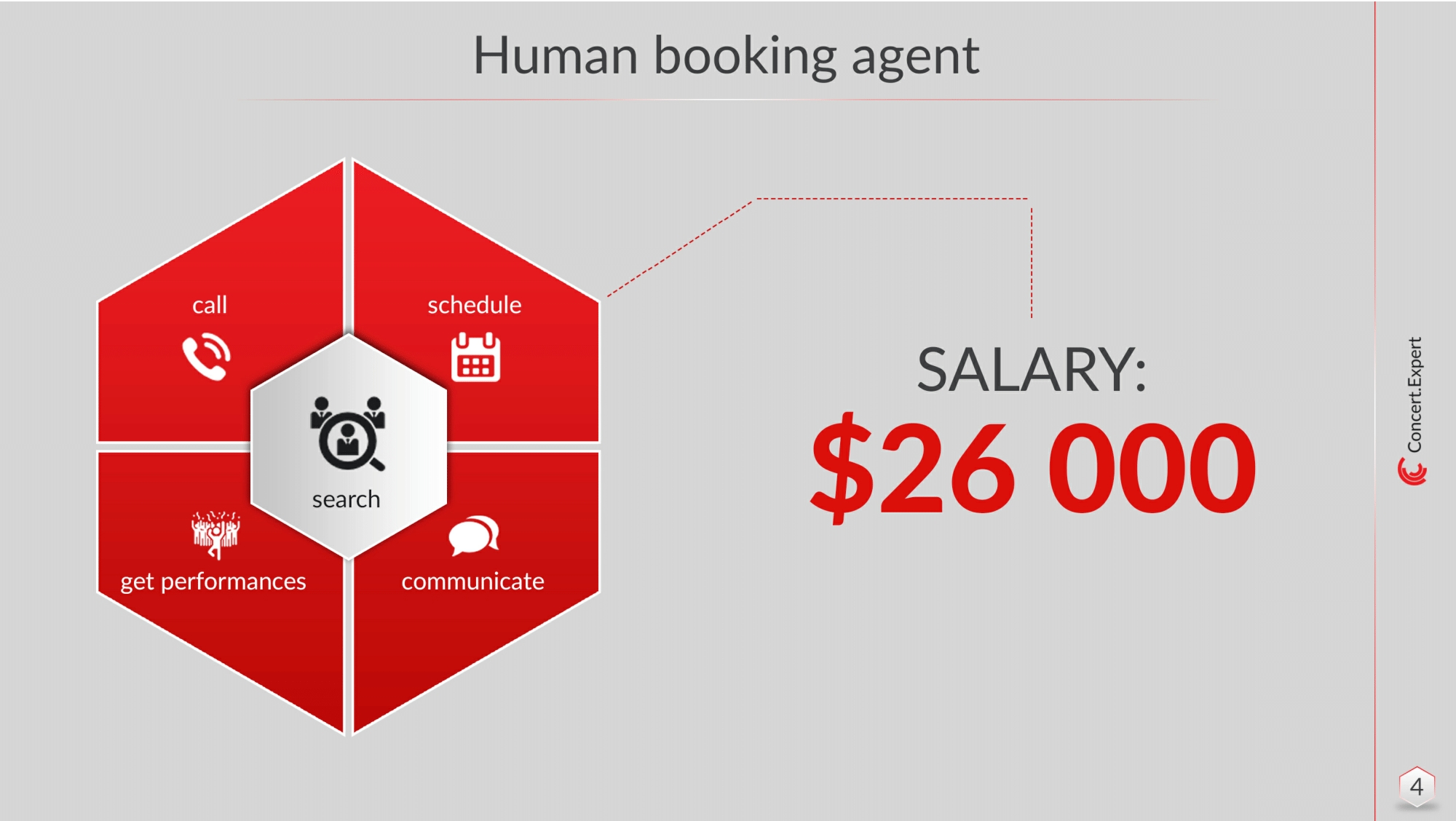 Concert.Expert covers all these mundane duties through web and mobile applications,
And is 10 times more efficient than a human booking agent.
Concert.Expert will disrupt the entire live music booking market.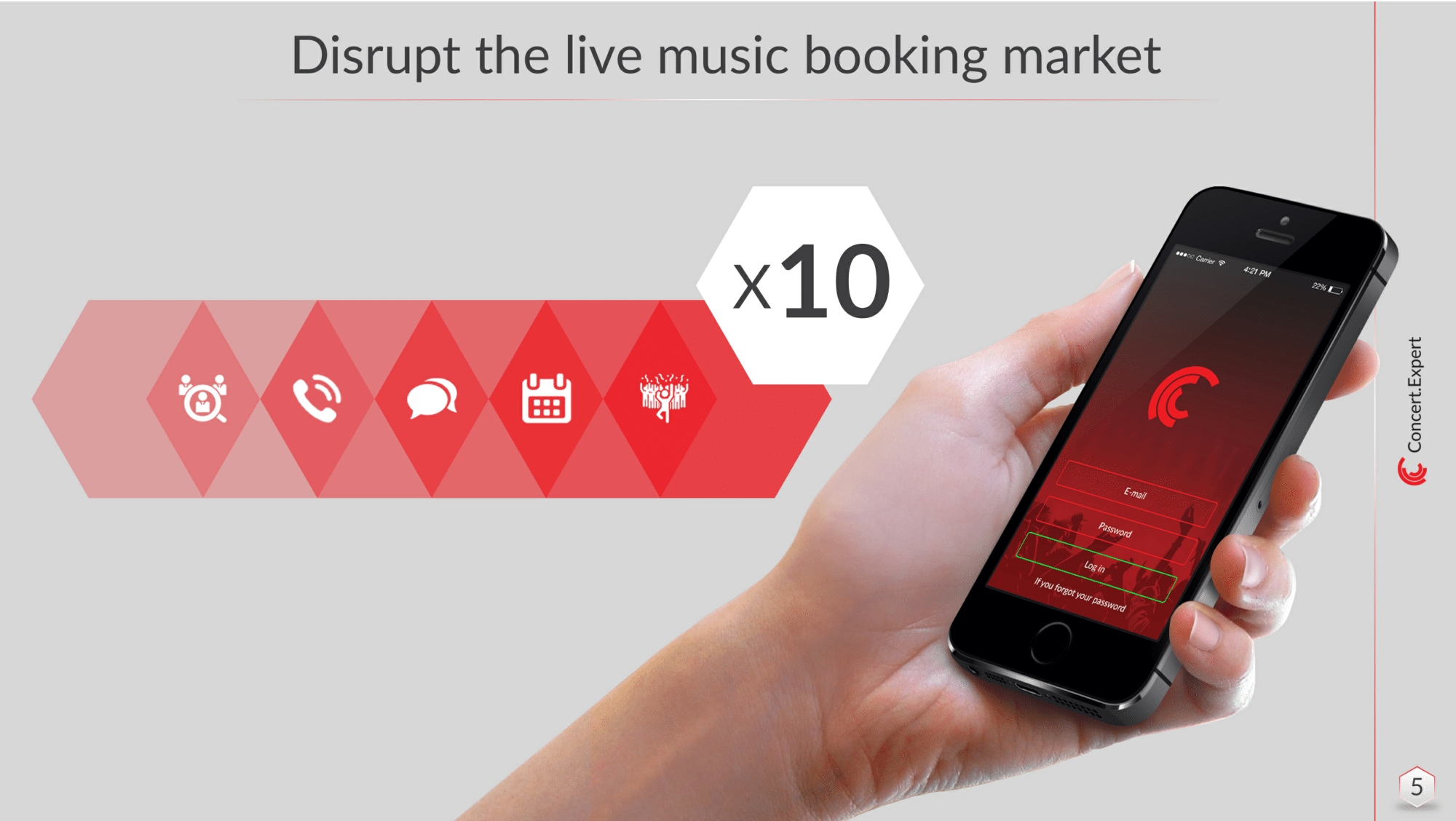 We have very strong team of co-founders:
Collectively, we have over 30 years of entrepreneurial experience.
4 exits experience.
Skills of our engineers cover web, Android and iOS platforms.
We've created more than one hundred web and mobile applications.
Majority of us are musicians. We know our customers.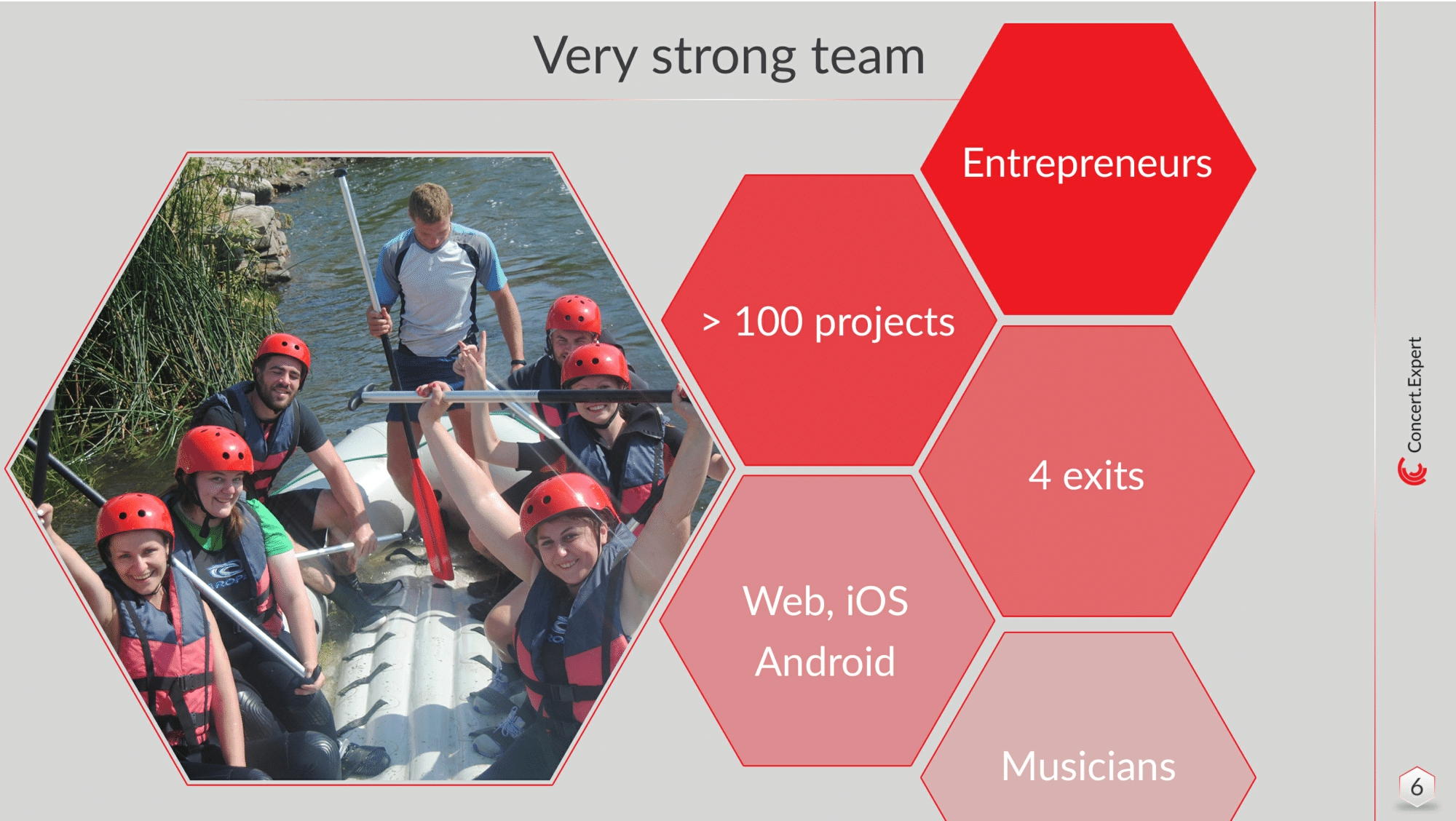 We validated our business model in Ukraine.
In July of this year, we had many meetings with musicians.
We asked them one question: what do you want to pay for?
The most promising and scalable idea was - Concert.Expert.
The idea showed it can work with one page MVP and even with one connected venue.
In the 3 months since then, we've connected half of all music venues throughout Ukraine.
Moreover, we've connected venues with musicians 1000 times.
Turnover via service reached more than $8000.
14% of all musicians in Ukraine have connected to the service.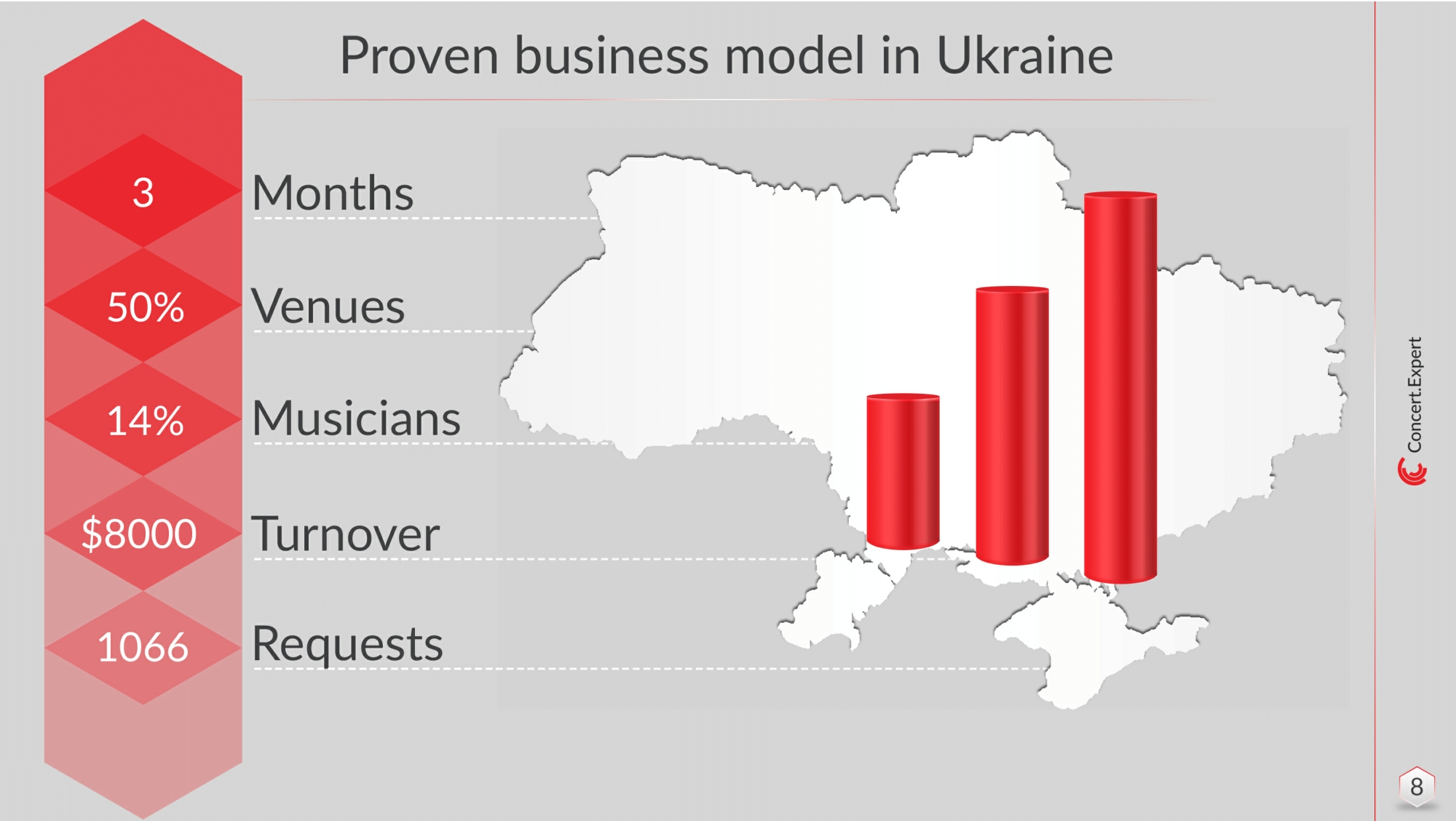 We decided this test run validated the idea.
And from November, we've totally focused only on the US market.
Now we connect more than one hundred music venues per month from New York and LA.
Next step is to move permanently to LA and to attract musicians.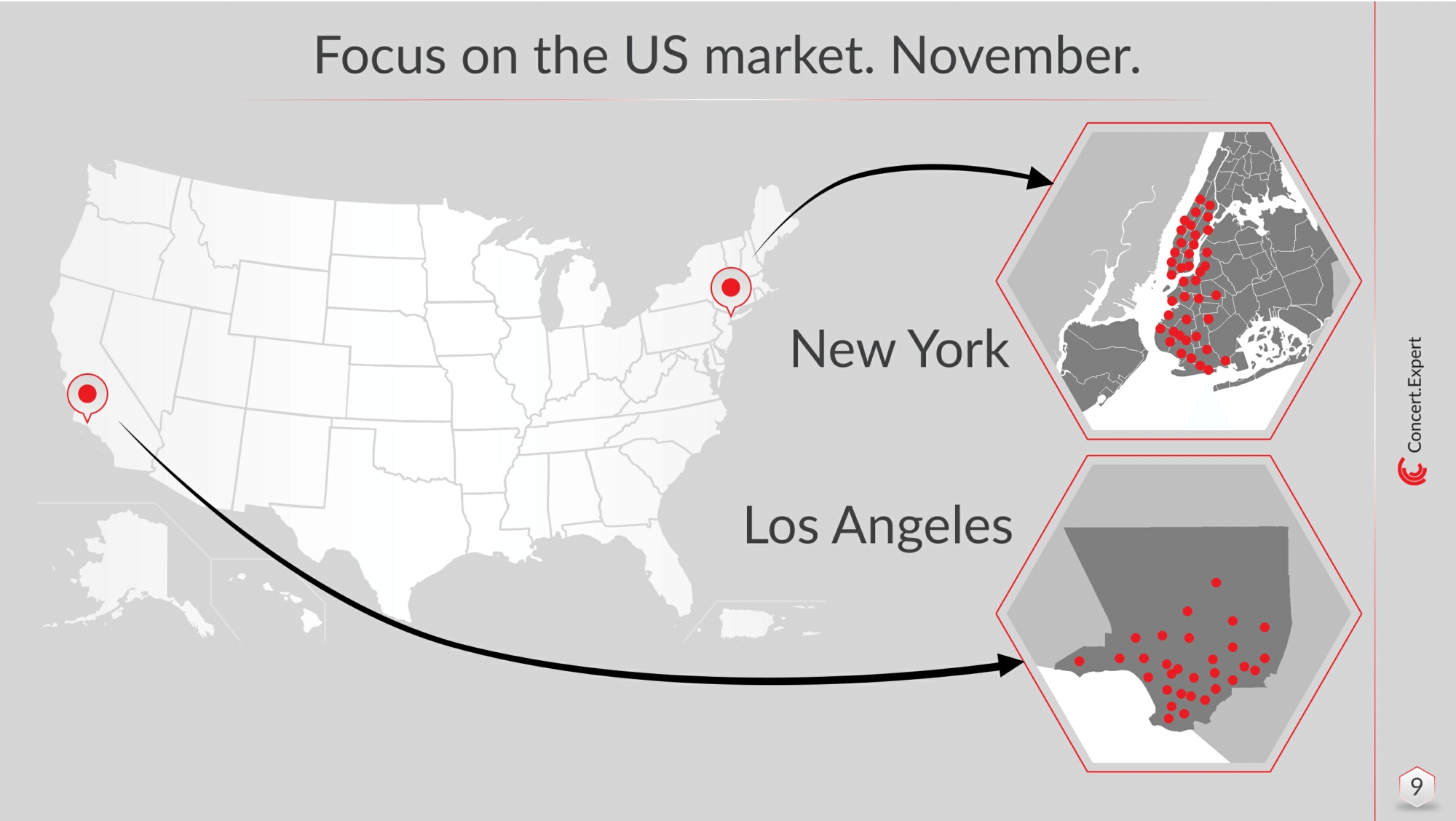 Main monetization is subscription, which starts at $49 per month.
For music venues our service is absolutely free.
We help them filter requests from musicians, thus they give us musicians for free.
Our strategic step is to launch a ticket service for our musicians and get commission from tickets.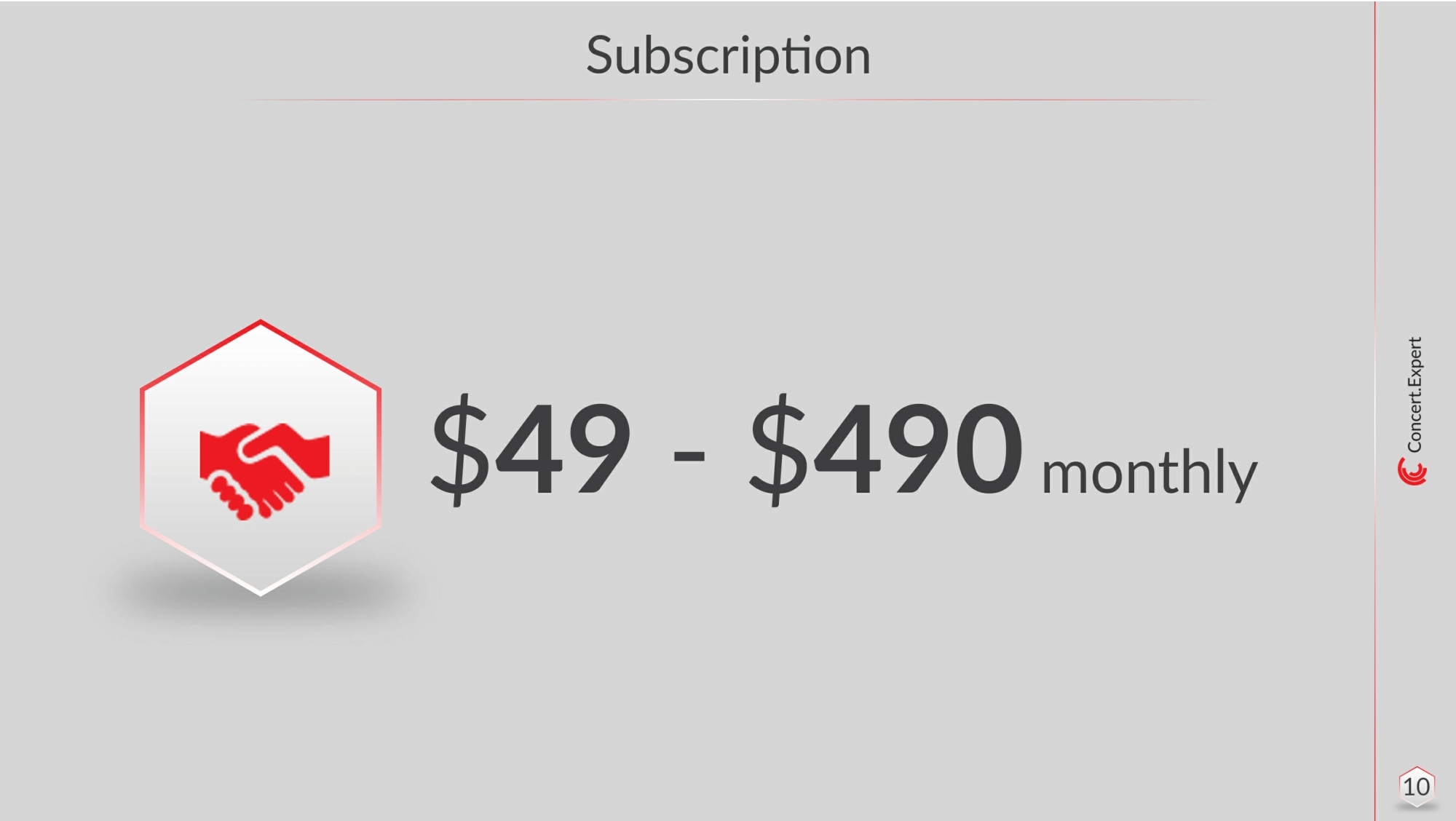 According to current KPIs multiplied by investments we will reach profitability by August 2015.
And one $100K in revenue by December 2015.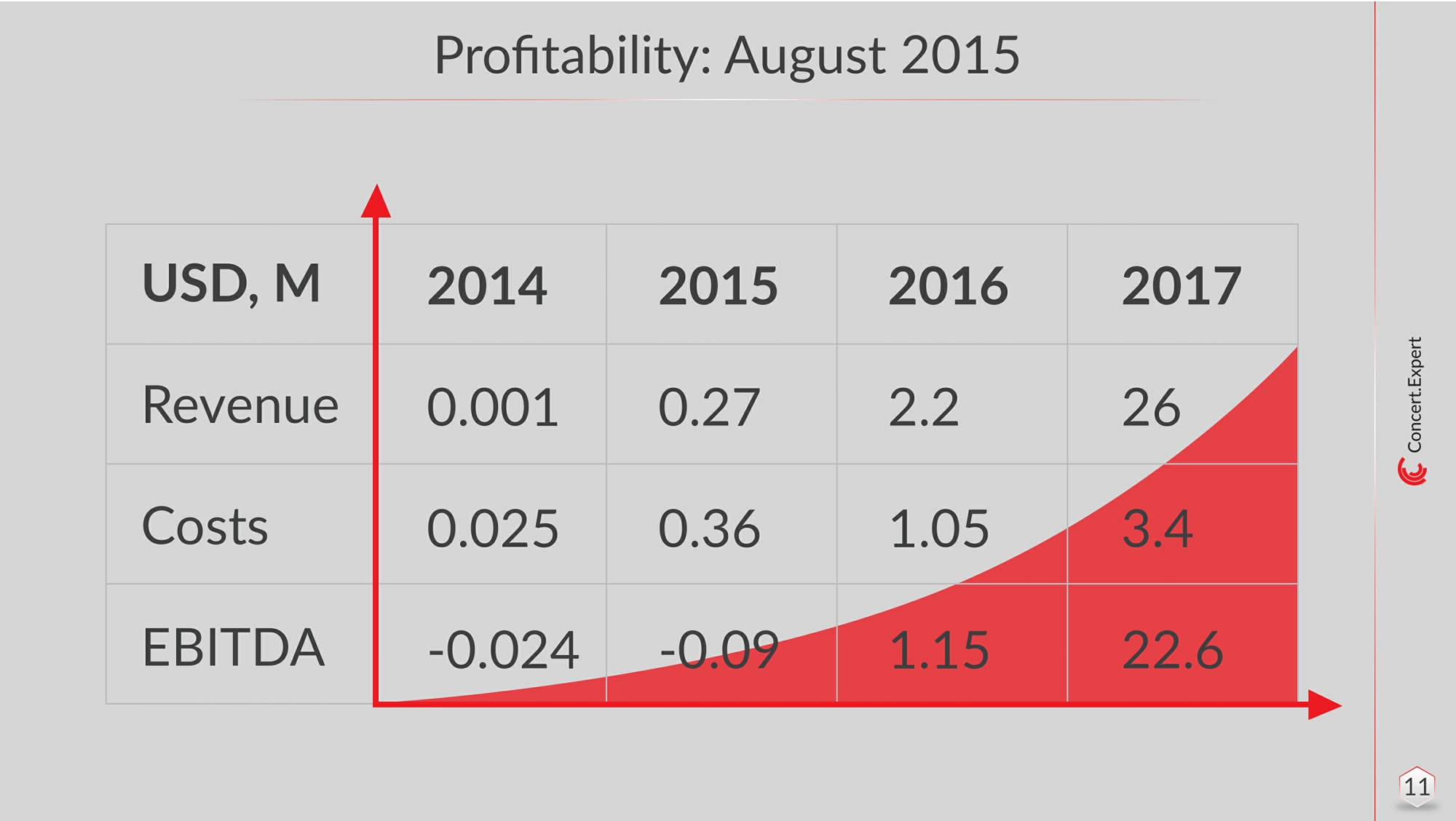 One of our current investors is Semyon Dukach. He is a head of TechStars Boston and a well-known angel investor in the United States.
This new era will make big labels change their business model to survive.Our exit strategy during the next 3 years is to be bought by Universal Music Group, Sony Music Entertainment, Warner Music Group or Live Nation - the dominant company in the ticket sales industry.
Thank you!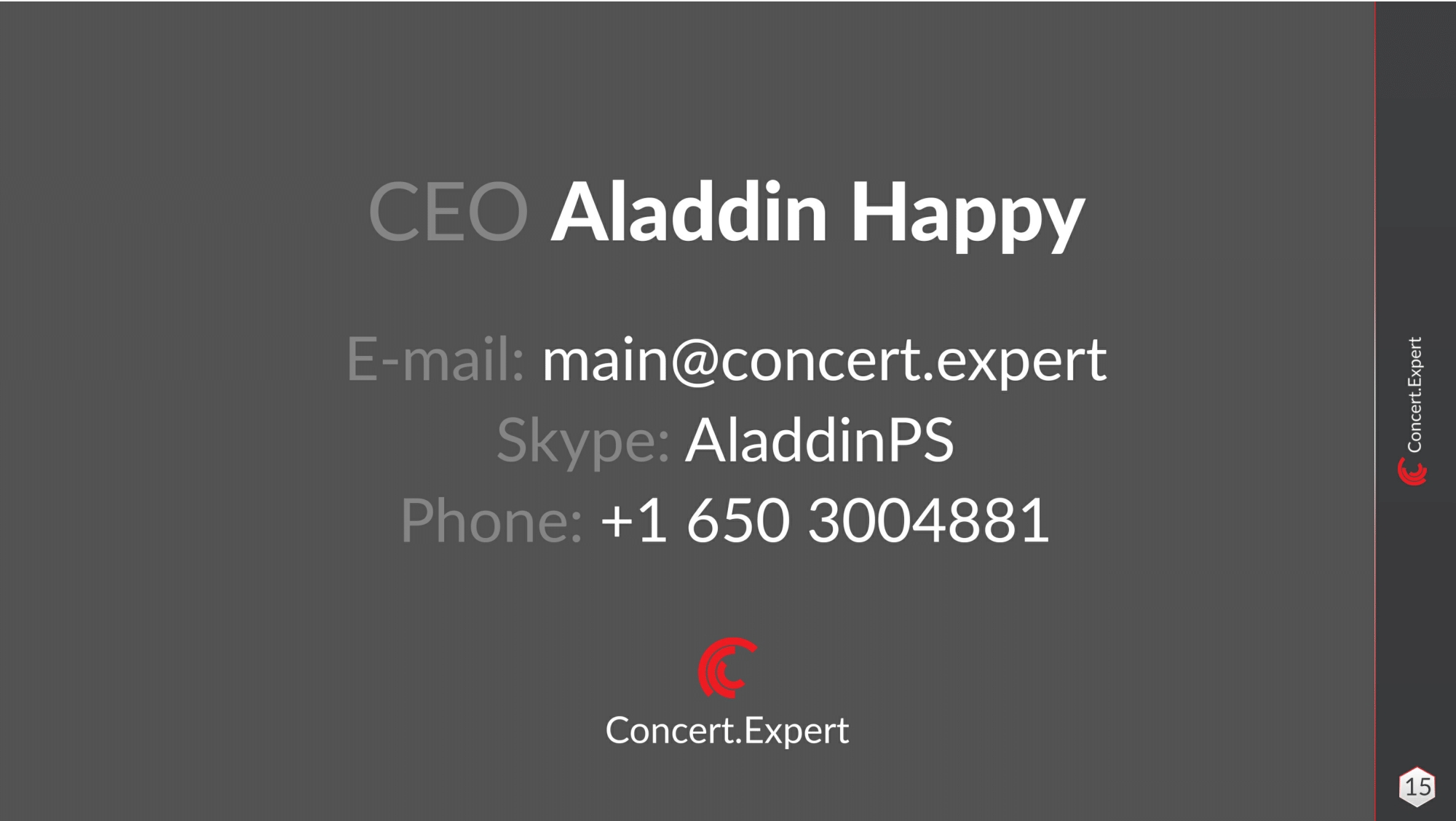 Phone in Ukraine: +380 50 353 15 50
Упоминания в СМИ

Публикаций в медиа
еще нет
Показать целиком
Свернуть
Блог проекта


Тут появятся статьи
о кейсах и новостях проекта

Вопросы команде

команде проекта

«Concert.Expert»


Напишите отзыв
или задайте свой вопрос